Critical Muslim Studies:
Decolonial Struggles and Liberation Theologies
Granada, Spain - May 23 - June 3, 2016
APPLICATION DEADLINE: February 5, 2016
Please submit your Application Here
The international Summer School, Critical Muslim Studies: Decolonial Struggles and Liberation Theologies, is an intensive seminar composed of several courses (all of them held in English language) that aims at opening the space for the analysis and investigation of Islam not only as a spiritual tradition, but also as an epistemic decolonial perspective that offers contributions and responses to the problems that humanity faces today. This becomes even more relevant with the defeat of the Arab revolutions, the processes towards the formation of an Islamic Theology of Liberation and the ongoing inter-religious dialogues across the world. Moreover, as a strong commitment to a vision of Critical Muslim Studies we emphasize Muslim feminism, decolonial perspectives, Islamic theology of liberation, and Islamicate decolonial pedagogy. The Summer School is held in Granada, one of the major centers of Al-Andalus (Islamic Spain). This course is offered through the Center of Study for Intercultural Dialogues, in Spain, in collaboration with the Ethnic Studies Program at the University of California, Berkeley.
This year's instructors include internationally recognized Islamic Studies and Ethnic Studies scholars:

Farid Esack - Salman Sayyid - Asma Lamrabet
Hatem Bazian - Ramon Grosfoguel - Arzu Merali
Houria Bouteldja - Santiago Slabodsky - Dew Baboeram
Nelson Maldonado-Torres
Previous and affiliated faculty include internationally recognized Islamic Studies and Ethnic Studies scholars:

Ella Shohat - Samia Bano - Asma Barlas - Abdennur Prado Sirin Adlbi Sibai - Muhktar Ali - Nadia Fadil - Munir Jiwa
Thomas Reifer - Enrique Dussel - Tariq Ramadan - Zahra Alí
(More Faculty Info)
Videos from previous years talks:

Tariq Ramadan - Farid Esack - Salman Sayyid
Ramon Grosfoguel - Santiago Slabodsky - Tom Reifer
The above professors teach specialized courses on a wide array of subjects. The course covers several topics such as Introduction to Critical Muslim Studies, Islamic Theology of Liberation, Islamic Decolonial Pedagogy, Inter-Faith Dialogues, Women and Islam, and Islamic Spirituality. The focus of the course is to inquire into Islam as a postcolonial/decolonial perspective. This description is meant to give you a brief idea of the broad scope of topics covered during the two week Summer School.
About the CENTER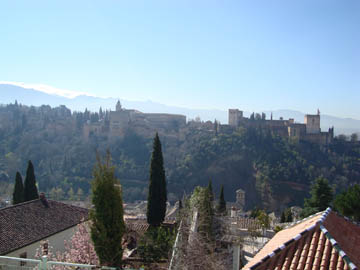 Center of Study for Mediterranean Dialogue - Centro de Estudios para el Dialogo Mediterráneo, affiliated with the Center of Study and Investigation for Decolonial Dialogue, is a non-profit and non-governmental organization promoting research, knowledge, education and public policy towards intercultural dialogues. The objective of the Center is to promote intercultural dialogues toward the goals of peace, human understanding, and solidarity in the world beyond the corporate logic of profits, the regulatory/military logic of states and the epistemic logic of fundamentalisms of any kind including Eurocentric fundamentalism.
For further inquiries and information, please send e-mail to CIT [at] dialogoglobal.com.